JUN Background Video is an fullscreen background video module for Joomla! It can be displayed as full-screen or in the module position with video source from Youtube.
There are lots of parameters and you can set them easily.
This awesome module is responsive and seo optimized. It is totally compatible with Joomla 3.x, easy to install and a perfect solution for you to create your own background video module on joomla …
First user need video playlist of Background Video module. You can drag and drop to order video playlist.
After setup data for video playlist you need configure module options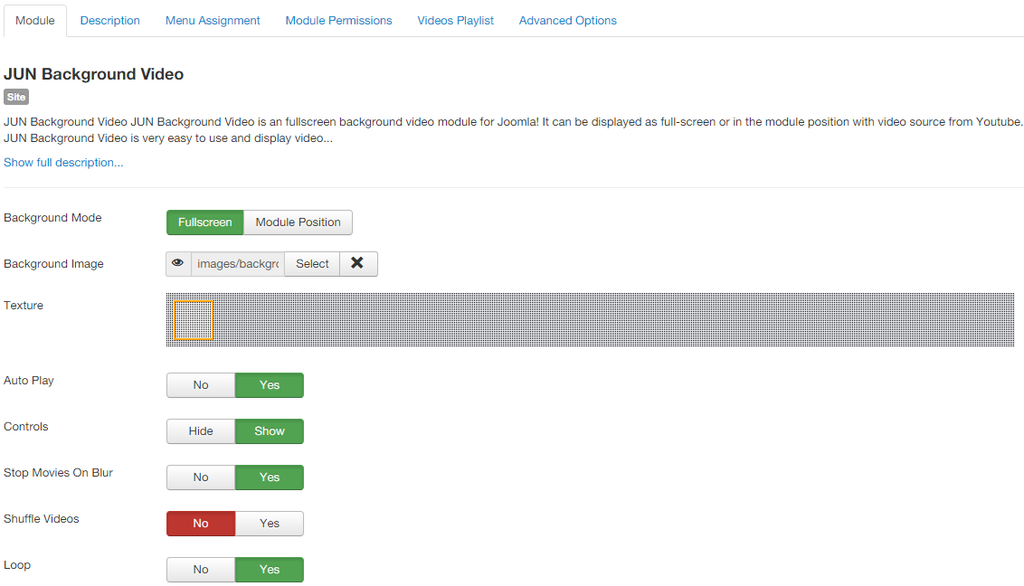 From here you can configure options of slideshow as background mode, background image on mobile devices and much more...
Background Mode: Background Mode have 2 options: Fullscreen or in module position.
Special Element: If our module don't auto select correctly element to display as background you can insert special element to get video display at correctly position. Example: #jun-background, .jun-background,...
Background Image: Select background image on mobile devices or when video preload..
Texture: Select texture (overlay pattern) of video.
Auto play: Start the Video automatically.
Controls: Show/Hide videos controls.
Stop Movies On Blur: Activate the pause behavior when the window lose focus.
Shuffle Videos: Enable/Disable Shuffle Videos.
Loop: Enable/Disable Videos loop.
Mute: Enable/Disable Mute videos audio.
Volume: 1 to 100 (number) set the volume level of the video.
Quality: Select quality of the videos.
Ratio: Select Videos Ratio.
From here you can configure advanced options of video as video min-height when use video at module position or add custom css code when style of template effected on our module.